Pecha Kucha Future Ready Educators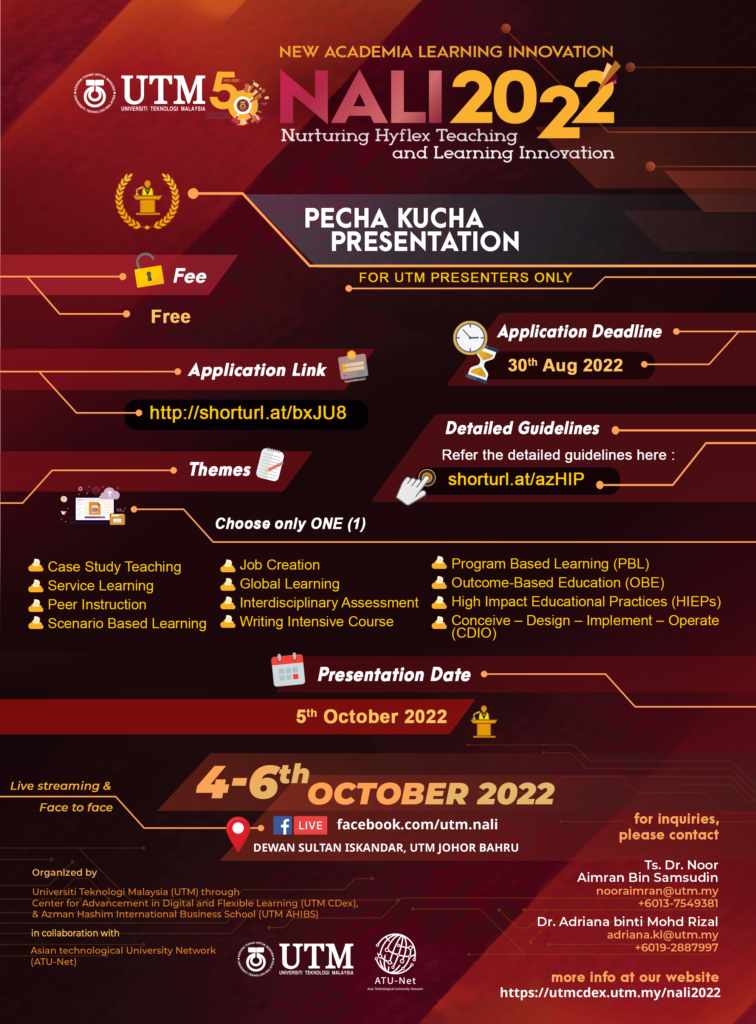 Choose only ONE (1)
Case Study Teaching

Service Learning

Peer Instruction

Scenario Based Learning

Job Creation

Conceive – Design – Implement – Operate (CDIO)

High Impact Educational Practices (HIEPs)

Program Based Learning (PBL)

Outcome-Based Education (OBE)

Global Learning/ Interdisciplinary Assessment

Writing Intensive Course
Register Here
INTRODUCTION
A Pecha Kucha presentation is a format that uses 20 slides or images, each shown for 20 seconds. This format was introduced and popularised by Astrid Klein and Mark Dytham of Klein-Dytham Architecture. They created Pecha Kucha in February 2003 when they founded Pecha Kucha. This format ensures that the speaker is brief, keeps the presentation moving and conveys the entire content. The basic idea of the Pecha Kucha presentation is "talk less, show more". Pecha Kucha is a Japanese word meaning 'chit-chat'. Today, Pecha Kucha is the fastest growing storytelling platform in the world, used by millions of people around the globe to share passions and impart knowledge. The visually compelling presentation should be simple and create authentic connections in less than 7 minutes.
Let join us at Pecha Kucha Future Ready Educator (PKFRE) @ NALI 2022.
Download PowerPoint Template HERE
We want to hear from you!.
FREE
FOR UTM PRESENTERS ONLY!
APPLICATION DEADLINE :
30th August 2022
PRESENTATION DATE :
5th October 2022