STEMazing Video Competition is a digital video competition for secondary school and UTM students on the impact of STEM (science, technology, engineering and math) in students' lives based on either:
STEM issues
STEM daily activities
Create a video of five minutes or less that teaches/explain how you make science, technology, engineering and/or math (STEM) a part of everyday life.
Cash Money to be Won!
3 x 1st Prize: RM 1200
3 x 2nd Prize: RM 1000
3 x 3rd Prize: RM 700
Secondary School
Must be in Secondary/ Form 1-5 and under 18 years of age
Two Categories : Category A (Form 1 -3) and Category B (Form 4-5)
Entries accepted in both individual and group categories
Resident of Malaysia
UTM Students
Open to all Active students in UTM
Digital video of 5 minutes MAXIMUM…not including title page/credits
Quicktime movie format (.mov)/ (.avi) / (.mp4) – High Definition (HD) quality, minimum resolution = 720p
Title page including name of film, student(s) names (for indivdual OR team members), school name, grade
Please include science sources and any photo/film/approval for sources in the credits after the video
Content must be eye-catching and appropriate for all ages
Submit your topic, video and all the paperwork on or before the deadlines 31 Aug 2017
Follow the judging requirements (judging criteria)
Submitting your video
-entries should be submitted by uploading online (how to upload your video) for judging.
Submit your paperwork:
-story outline submission due 31 Aug 2017 (form)
–entry form please have the signature of your parent on the entry form unless you are over 18!
-release forms (individuals/talent, locations, materials/music)
For questions or submissions please contact:
Nurbiha A Shukor @ Project STEMazing
Center for Teaching and Learning
UTMLead, Universiti Teknologi Malaysia
+607-5537885
nurbiha@utm.my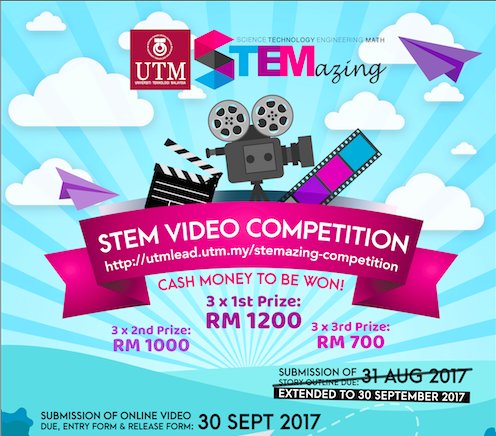 Submission of Story Outline Due: 30 September 2017
Submission of Online Video Due, Entry Form & Release Form: 30 September 2017
Video STEM Winners are Here! Congratulations!!!
Thank you everyone for your patience. Now we are proud to release the results!
Thank you for your great videos, we enjoy them all!
Category Lower Form 1-3
1st Prize Winner
Teng Yu Shiun

Lee Xiang Yee

Tan Xin Yee
From SMK Ulu Tiram, Johor. Watch Video
2nd Prize Winner
AIDAN LEO CHONG SHENG,
AKIL INDIYA A/L MANI MARAN,
SHAI BING HAN
ARWIND A/L KALAI THASAN
From SMK Dato' Jaafar, Johor Bahru, Johor
Video Synopsis: There once lived a man who had many daily struggles. Two chicken suppliers came to be his saviors. And there's a random weirdo in the video
Watch Video
3rd Prize Winner
Syed Afraaz Eirfan bin Syed Ahmad Iskandar
Luqman Hirzan bin Masri
Kabbilan a/l Padmanaban
Amir Hariz bin Yusairi.
From SMK Mutiara Rini
Video Synopsis: Matematik dan Sains bukanlah susah sebenarnya. Ia hanya perlu dipelajari dengan betul. Di dalam video ini, terdapat dua pelajar sekolah menengah menunjukkan contoh-contoh pengaplikasian ilmu Sains dan Matematik seperti Daya Geseran dan Pengiraan Kelajuan. Ianya sangat mudah.
Watch Video
Category Upper Form 4-5
1st Prize Winner
MUHAMMAD AFIQ BIN MOHD KHALID
MUHAMMAD HAIKAL BIN ABD RAHIM
From SMK Tinggi Kajang, Selangor
Video Synopsis:
Situasi mengapa tin susu perlu ditebuk 2 lubang dan bagaimana pembersih vakum berfungsi
Penerangan konsep oleh guru
Demo Kesan tindakan tekanan atmosfera dan peranan tekanan atmosfera untuk membolehkan pelocok berfungsi
Watch Video
2nd Prize Winner
Ng Li Roy,
Nur Syazwani Athirah Binti Kamsan
Abram Varughese a/l Kurian
Mohamad Shakirin Bin Mohamad Ashri
Muhammas Annas Syhukri Bin Mohd Ariffin
Izzul Iqmal Bin Mazlan
From Sekolah Menengah Teknik Johor Bahru
Video Synopsis: How do we apply Science, Technology, Engineering and Mathematics (STEM) in our daily lives? Let Roy, Abram Jen and his friends explain to you the uses of STEM! In this video, we show you how Impulsive Force, Rate of Reaction, Coordinate Geometry and Technology can be applied in our lives. We hope you enjoy and learn something from this video.
Watch Video
3rd Prize Winner
PUTRI NUR ANILSAH BT AZIZUDDIN
SINDI LUVITA
NORSHAHIRAH BT YAHYA
NURUL ASYIQIN BT NORHAN
MUHD RIDWAN BIN MAT YAAKOB
FERNANDEZ ANAK EPINDI
ESTER WONG CHIH XUAN
NUR AQILAH BT YUSMANIZAM
MUHD EIDHAM BIN SHAHARUDDIN
From SMK TAMAN SELESA JAYA 2
Video Synopsis: Mengisahkan aqilah , pelajar baru yang baru berpindah ke sekolah STEM dan ester , pelajar STEM memperkenalkan pendidikan STEM di sekolah itu.
Watch Video
Category UTM Students
No Winner
We will update you about the prize giving ceremony! Watch out for the information in the website